Not all agents are equal
Institute Members Are Trained to Work in Luxury Real Estate.
The Institute for Luxury Home Marketing exists to help buyers and sellers of luxury homes and estates find real estate professionals with the knowledge, skills, and expertise to support their unique needs. Our members specialize in the luxury home market and have completed extensive training to build additional competencies.
Members of The Institute also have access to exclusive market insights and the latest marketing strategies, enabling them to stay on top of changing market conditions and offer effective plans to sell luxury properties. This insight and specialized knowledge makes our members, especially those who have earned the Certified Luxury Home Market Specialist™ (CLHMS) designation, the best agent choice for affluent buyers and sellers of luxury residential properties.
Select the Right Agent
Successfully buying or selling a luxury home starts with selecting the real estate professional that can best assist you. Not all agents operate effectively in the upper-tier market, a segment that requires special competencies and marketing expertise. Here are five tips for choosing an agent in the luxury real estate market.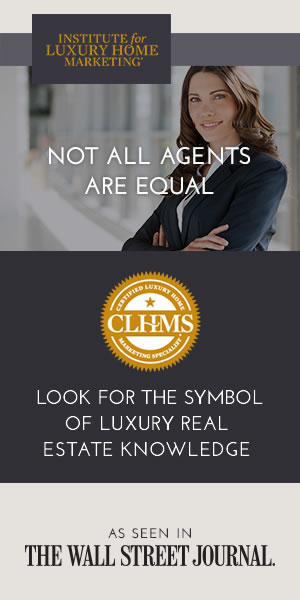 Jane McCan
Kuper Sotheby's International Realty

Look no further! We will use Jane for all of our real estate needs in the Austin area. She guided us through every step of the transaction with a positive, reassuring, and calming presence. My husband and I were transitioning from a condo in Brooklyn to our first home purchase in Austin, so we ha...
We immediately - - and I mean immediately - - felt comfortable and knew we were in the hands of a great person and a great realtor. Marcetta listened to our desires, needs, likes and dislikes. She was prompt, professional, and, most importantly, calm in the midst of our frantic move. We found...
Karen Woodard
Beverly-Hanks Realtors
Don and Karen Woodard

"Karen and Don proved to be a tremendous resource. Our search took nearly a year. Every time we visited Asheville to see our daughter, they were incredibly gracious and available to help us look and research.They gave up many hours on weekends to do this. Karen aided us in our decision making, gu...