Not all agents are equal
Institute Members Are Trained to Work in Luxury Real Estate
The Institute for Luxury Home Marketing exists to help buyers and sellers of luxury homes and estates find real estate professionals with the knowledge, skills, and expertise to support their unique needs. Our members specialize in the luxury home market and have completed extensive training to build additional competencies.
Select the right agent
Successfully buying or selling a luxury home starts with selecting the real estate professional that can best assist you. Here are four tips for choosing an agent in the luxury real estate market.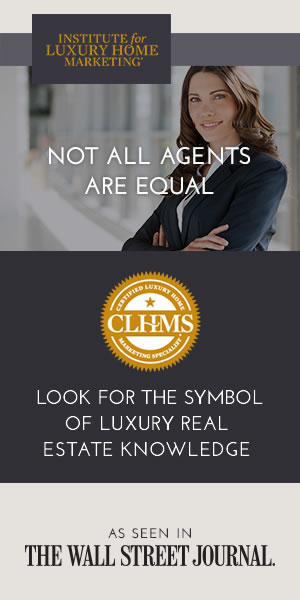 Joan Pok
Realty ONE Group Signature

Joan is very responsive, knowledgeable and an expert in the real estate market. We feel very fortunate to have had the opportunity to work with her! We would highly recommend Joan to anyone in the market of buying or selling their home.
Carol Best
% Jameson Sotheby's International Realty

Carol was our 4th Realtor. Our home was now vacant and up for sale for nearly 2-1/2 years. I've never met a Realtor who cared as much as Carol... She got the house back into shape with her great attention to detail, wrote fabulous marketing copy, and then the unthinkable happened... Our hom...
Mike Hughes
Hughes Residential
Mike Hughes Team

I have only wonderful things to say about Mike Hughes and his partner, Kate Coker, they were fantastic! Mike and Kate walked us through the home buying and selling processes, and we moved into our new condo six months later. They are competitive without being overly aggressive and did their h...