Not all agents are equal
Institute Members Are Trained to Work in Luxury Real Estate.
The Institute for Luxury Home Marketing exists to help buyers and sellers of luxury homes and estates find real estate professionals with the knowledge, skills, and expertise to support their unique needs. Our members specialize in the luxury home market and have completed extensive training to build additional competencies.
Members of The Institute also have access to exclusive market insights and the latest marketing strategies, enabling them to stay on top of changing market conditions and offer effective plans to sell luxury properties. This insight and specialized knowledge makes our members, especially those who have earned the Certified Luxury Home Market Specialist™ (CLHMS) designation, the best agent choice for affluent buyers and sellers of luxury residential properties.
Select the Right Agent
Successfully buying or selling a luxury home starts with selecting the real estate professional that can best assist you. Not all agents operate effectively in the upper-tier market, a segment that requires special competencies and marketing expertise. Here are five tips for choosing an agent in the luxury real estate market.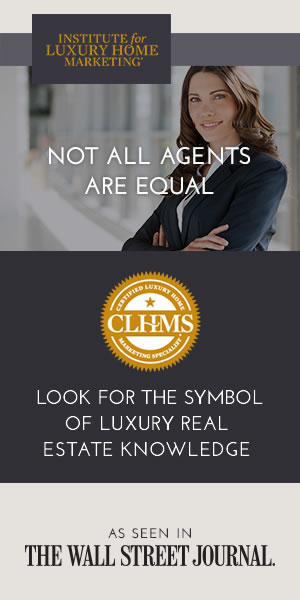 Eric is a superb realtor! We recently moved from No. to So. CA. Prior to that, Eric spent an enormous amount of time with us, showing us numerous properties and introducing us to a variety of communities to choose from; taking into account our life-style, job situation, personal preferences a...
"Susan Bobek is a wonderful realtor.....I wouldn't want anyone else handling my property! "
"Yvonne is the ultimate real estate professional and I am convinced that the sale of our beach property would not have occurred without her highly developed real estate knowledge and the people skills she displayed to the seller and buyers together to consummate the deal. This real estate transac...